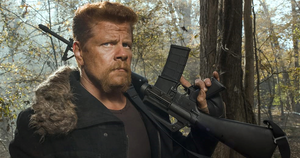 SPOILER WARNING: This article contains spoilers for the season seven premiere of "The Walking Dead.
If you watched last night's season premiere of "The Walking Dead," then you know the answer to the bloody and brutal question of who Negan killed in the season six finale earlier this year. The episode, titled "The Day Will Come When You Won't Be," took out not one but two beloved members of the "Walking Dead" cast, taking out Abraham (Michael Cudlitz) and Glenn (Steven Yeun) with many swings of a barbwire-covered baseball bat.
"Look, for anyone who follows the graphic novel, he's on borrowed time," said Cudlitz. "Denise took his death graciously two episodes prior… so I think at that point I had gone beyond where he was in the graphic novel. I know [creator Robert Kirkman] always said he was not happy with how he took Abraham out in the graphic novel, so I was curious to see where we go from there. And yeah, I think in the group, he made it very clear to Negan that if he was going to take somebody, take me if it's going to help protect the rest of the group."
Of course Abraham was but the first to die, and Negan took out Glenn in retaliation for Daryl punching the villain.
Back in August, Cudlitz teased his character's final fate and touched upon his character's borrowed time. "Now we get to see what a world with Negan and Abraham both in it will be like," Cudlitz said back in August. "That's something we don't see in the graphic novels. So a lot of cool stuff happens. For me, knowing that his potential death had come and gone, it was a moment to go, 'Oh cool, they really aren't going to stick with what the graphic novel does.' As a fan of both the novel and the show, it was cool."
Airing Sundays at 9 pm ET/PT on AMC, "The Walking Dead" stars Andrew Lincoln as Rick Grimes, Chandler Riggs as Carl Grimes, Norman Reedus as Daryl Dixon, Melissa McBride as Carol Peleteir, Lauren Cohan as Maggie Green, Danai Gurira as Michonne and more'''
(via Entertainment Weekly)