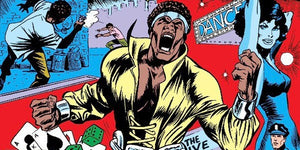 SPOILER ALERT: The following article contains spoilers for Marvel's Luke Cage series on Netflix. If you have not yet had the chance to watch the show, and don't wish for any details to be ruined beforehand, we suggest clicking away to another one of our wonderful articles.
Superhero costumes have smartly evolved in comics over the years, with modern trends often creating looks for characters that are completely different than the get-ups they started with. Luke Cage is a perfect example of this. While most Marvel readers nowadays recognize him wearing a simple yellow T-shirt and jeans, he was introduced as a pure product of the 1970s, his ensemble including a chest-exposing long-sleeve shirt, a hefty chain for a belt, and silver gauntlets and a headpiece that tied it all together. As seen above, it's a ridiculous look and one that would never fly for a hero introduced in the 21st century - but Marvel Studio's new Netflix series Luke Cage has done an honestly great job bringing back and paying tribute to the original costume.
In episode four of Luke Cage's first season (titled "Step In The Arena"), we see the culmination of the titular character's origin story in Seagate Prison. A savage beating at the hands of some fellow inmates (including Theo Rossi's Shades) leaves Mike Colter's Carl Lucas on the edge of death, and Parisa Fitz-Henley's Reva Connors no choice but to try and save him with the help of experimental treatments. Of course, it's this sci-fi bath that winds up giving Lucas his unbreakable skin -- and it's an ability he uses to punch through the wall and break out of jail. Wandering around and still sporting the head and wrist braces from the lab, he grabs some random clothes off of a clothesline, creates a makeshift belt, and... ta-da!
Admittedly the glorious moment is pretty short-lived -- mostly because it doesn't take very long at all for Carl Lucas/Luke Cage to get a look at his reflection and realize how stupid his get-up is. That being said, it's still a great way for showrunner Cheo Hodari Coker, his crew, his star, and the series in general to pay tribute to the entire legacy and history of the beloved character in the comics. We do eventually get to see the original Hero For Hire's more modern signature outfit in the first season, but the appearance of the 1970s costume is a fun way to remember just how long Luke Cage has been a part of pop culture.
Furthermore, it's just nice that the original costume isn't something that Luke Cage treats like the plague. While we've seen some franchises do everything in their power to steer away from key aesthetics from the source material, fearing that a close correlation would turn mainstream audiences away from the nerdy world of comics, this is a perfect example of the opposite. The truth is that the show didn't need to include a live-action version of Luke's first costume, but we're super happy that it did.
What did you think of the appearance of Luke Cage's original costume? Did you appreciate it like us, or have different feelings about it? Hit the comments with your thoughts, and be sure to stay tuned for much, much more of our Luke Cage coverage!
Source : Cinema Blend