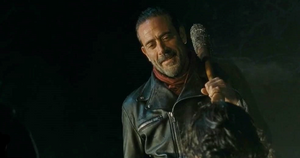 With the mystery of "Who died at Negan's hand?" now resolved, "The Walking Dead" executive producers Gale Anne Hurd, Scott Gimple and Greg Nicotero and more open up about that it means for those who survived their encounter with Lucille, and for the rest of Alexadria's residents.
"There was a bright future for them," says series EP and Season 7 premiere director Nicotero. "The learned how to work together, they had threats from outside sources that they dealt with."
Of course, Negan's arrival put a violent — even by Rick and company's standards, end to all of that.
"The over confidence of Rick Grimes and his group led to them finding themselves in a very tenuous situation with a guy named Negan," Nicotero continued." The hardest thing RIck had to deal was is that fact that he was completely helpless."
Check out the full interview segment below, featuring a look at the S7 premiere, and hints of what's to come as the season unfolds, including the introduction of King Ezekiel, how Negan's system or survival works, and more.
Airing Sundays at 9 pm ET/PT on AMC, "The Walking Dead" stars Andrew Lincoln as Rick Grimes, Chandler Riggs as Carl Grimes, Norman Reedus as Daryl Dixon, Melissa McBride as Carol Peleteir, Steven Yeun as Glenn Rhee, Lauren Cohan as Maggie Green, Danai Gurira as Michonne and more...
Source : CBR