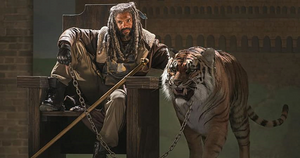 If you're looking for a break from Negan after last night's intense episode of "The Walking Dead," you're in luck — the series will see the introduction of Ezekiel and his Kingdom in next week's episode, for which AMC has released a batch of new photos...
The upcoming second episode of Season 7, titled "The Kingdom," not only promises to introduce some newcomers to the world of the Walkers, but also is said to be a bit lighter. Showrunner Scott Gimple promised that the episode would be "funny" — which might come as music to fans ears after the last two emotionally-draining episodes.
The images showcase some Walkers, Morgan, Ezekiel, and of course Shiva, his pet tiger. In a clever nod to their comic counterparts, the image of Ezekiel and his pet mirror the cover of issue #108 of "The Walking Dead" comic series....
Source : CBR