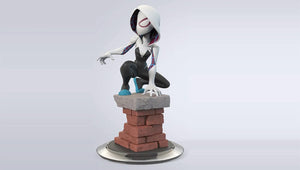 In the wake of "Disney Infinity's" sudden cancellation, a number of scrapped "Infinity"designs are hitting the Internet. A few days ago, fans got a look at Disney Games' abandoned take on Benedict Cumberbatch's Doctor Strange. Now, an exclusive video on the Infiniteer Adventures YouTube channel reveals "Disney Infinity's" spin on Marvel Comics' alternate-reality web-slinger Spider-Gwen.
"Disney Infinity" was Disney Games' entry in the lucrative toys-to-life market, in which users can link toys with their video game consoles to unlock exclusive digital characters. Since 2013, Disney has launched three different editions of "Disney Infinity," each one focusing on a specific Disney-owned franchise: "Disney Infinity 1.0" featured classic Disney characters, "2.0" introduced Marvel superheroes, and 2015's "Disney Infinity 3.0" added "Star Wars" characters to the mix. To outside observers, the game seemed successful, and "Disney Infinity" regularly beat other toys-to-life games like "Skylanders" and "LEGO Dimensions" at the marketplace.
As such, it was a big surprise when Disney cancelled "Disney Infinity" and shuttered its Disney Games division in early May. Sources claim that "Disney Infinity" was, in many ways, a victim of its own success: based on the promising returns from "Disney Infinity 1.0," Disney over-produced "Disney Infinity" figures, which sat unsold on store shelves and ultimately doomed the franchise.
"Disney Infinity's" cancellation was clearly a surprise to its developers as well as its fans, as Disney Games had a fair amount of content waiting in the wings. A "Finding Dory" playset came out a couple of weeks ago to absolutely no fanfare, and figures like Doctor Strange and Spider-Gwen look like they were in the final planning stages.
Spider-Gwen feels like a natural fit for "Disney Infinity." The character, created by Jason Latour and Robbi Rodriguez first debuted in 2014's "Edge of the Spider-Verse #2" as part of Marvel's "Spider-Verse" crossover event. The character, a superpowered version of Peter Parker's doomed girlfriend Gwen Stacy, was an instant hit, and Spider-Gwen quickly became a popular cosplay subject at conventions around the world. An ongoing "Spider-Gwen" comic book series and plenty of merchandise followed.
In Disney Games' absence, Disney remains committed to making video games based on its key franchises; however, going forward, titles will be licensed out to third parties instead of being produced in-house.
Source : CBR