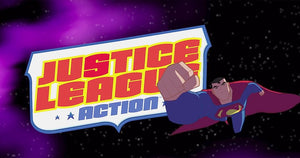 Those of you, who love the Justice League  animated series a new series  returned  to Cartoon Netwok  !!!!
Justice League Action: Everything We Know About the Cartoon Network Series
 Fifteen years after the premiere of "Justice League," DC Comics' greatest heroes return to animated television Friday, Dec. 16, in the United States with "Justice League Action," and they've brought along some friends. A lot of friends.
Produced by Warner Bros. Animation, the new Cartoon Network series probably has more in common with "Batman: The Brave and the Bold" than with "Justice League" or "Justice League Unlimited," as it teams DC icons — first and foremost, Superman, Batman and Wonder Woman — with a roster of lesser-known heroes. Oh, and there are plenty of villains, too, both big and small, from classics like The Joker to Chronos, to newer nemeses like Dex-Starr.
RELATED: New "Justice League Action" Trailer Assembles DC's Greatest Heroes
Justice League Action" also eschews the traditional 22-minute animated format in favor of 11-minute episodes, which means the emphasis will be on, well, action. It's right there in the title.
To get you ready for the series premiere, we've broken down everything we know (so far) about "Justice League Action."
It Was Originally Planned as a Batman Series
Although the short-lived "Beware the Batman" had ended only in 2014, the project that would become "Justice League Action" was supposed to be Cartoon Network's latest Batman cartoon.
"Originally, we were supposed to be doing another Batman series," producer Butch Lukic, whose credits include "Batman: The Animated Series" and "Batman Beyond," revealed in July at Comic-Con International. "But me and Alan [Burnett] got together with the whole team and then eventually, a week later, it was suggested we do a Justice League show instead. There was a gap between a new series [and the last one], plus the new movie is coming out, so we got the go-ahead to do a Justice League series."
Season One Features More Than 150 DC Characters
Well, 152 to be exact. Of those, Lukic said about 60 are superheroes, 40 are villains, and the remainder supporting players. Most of the episodes will feature at least one of DC's Trinity — Batman, Superman and Wonder Woman — partnered with a veritable who's who of the DC Universe (seriously, you may need to dust off a copy of "Who's Who in the DC Universe"). Along with the likes of Hawkman, Stargirl, Blue Beetle and Plastic Man, between the Comic-Con highlight reel and leaked concept art we've seen such characters as Mongul, Big Barda, Doctor Light, Shazam, Vixen, Mr. Terrific and Killer Croc. But that barely scratches the surface.
DC Entertainment approached the series with a clear idea of which character should appear. "They gave us a list at first," Lukic said. "That was based originally on the [New] 52 comics. The list of characters in there were what they wanted, and it was pretty much the ones everyone wants, plus some odd ones. We definitely got most of those in, plus a few that we thought of that would fit."
Expect the Unexpected
Unexpected team-ups, that is. As you might expect from the eclectic cast of characters, some of the pairings are unusual, to say the least. For instance, in the highlight reel we see Batman with Etrigan the Demon and Wonder Woman take on Lobo, while in one of the clips Superman seemingly "rescues" The Joker from Mongul.
Source : CBR