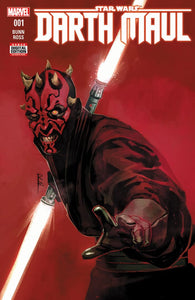 Marvel Announces Darth Maul Series From Cullen Bunn, Luke Ross by Brett Whitein Comic News
Marvel Announces Darth Maul Series From Cullen Bunn, Luke Ross
Marvel's "Star Wars" line will continue to turn out new titles in 2017, and the fan favorite short-lived Sith Lord will be one of the line's new stars. As revealed by USA Today, a new limited series starring Darth Maul will arrive in 2017. "Darth Maul" will be written by Cullen Bunn ("Uncanny X-Men," "The Sixth Gun") with art by Luke Ross" (Marvel's "Star Wars: The Force Awakens" adaptation).
The limited series is set before the angry Sith Lord's debut in 1999's "Star Wars: Episode I – The Phantom Menace," a film that ended with the evil Jedi defeated and cut in half by Obi-Wan Kenobi. This series will show part of Maul's origin as he trains under Darth Sidious, the man that would eventually become Emperor Palpatine. And no, Maul's not the kind to take orders easily. And because he's forbidden from engaging the Jedi in combat just yet, Maul instead takes out his frustration on the denizens of the dark underworld of the cosmos.
But Maul will run across a young Jedi padawan named Eldra Kaitis — a padawan that he both wants to test his own mettle against and potentially turn tot he dark side.
In an accompanying interview, Bunn told USA Today that he looked to Ray Park's performance as Maul in his lone feature film appearance for inspiration. "I like seeding where that impatience and anger comes from," said Bunn, referencing his caged animal ready to pounce body language during the film's climactic two-on-one lightsaber duel. Bunn also teased that Darth Sidious will not be a "very warm teacher."
Marvel's "Darth Maul" limited series follows in a now long line of series focusing on one particular character. Previous limited series include "Princess Leia," "Chewbacca," "Lando," "Han Solo" and "Obi-Wan and Anakin." "Darth Maul" is slated to arrivein early 2017.