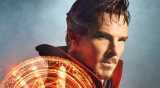 Benedict Cumberbatch's Sorcerer Supreme leads Total Film's 'Massive Comic Book Preview' issue as the upcoming Marvel flick is this months cover star. Click the link to see the British actor in a signature Doctor Strange pose...
Marvel will be hoping for yet another hit with November's Doctor  Strange, the final comic book movie in what has been a hit-and-miss 2016 for the genre. Star Trek Into Darkness star Benedict Cumberbatch plays surgeon turned sorcerer in horror director Scott Derrickson's origin story. The first two mind-bending trailers for the film have promised something truly different from Marvel Studio's fourteenth offering as the MCU explores magic for the first time.

To promote the upcoming release, Total Film's latest issue not only features Cumberbatch casting an iconic hand spell on the cover as it will also feature exclusive details from the hotly anticipated release. Joining Dcotor Strange in the magazine, is a host of upcoming comic book movies including Black Panther and Justice League, as you can see on the cover image below.
For more on Doctor Strange, don't forget to pick up the new issue of Total Film on sale from this Friday.
Marvel's Doctor Strange follows the story of the talented neurosurgeon Doctor Stephen Strange who, after a tragic car accident, must put ego aside and learn the secrets of a hidden world of mysticism and alternate dimensions. Based in New York City's Greenwich Village, Doctor Strange must act as an intermediary between the real world and what lies beyond, utilizing a vast array of metaphysical abilities and artifacts to protect the Marvel cinematic universe.
Directed by Scott Derrickson, Doctor Strange starring Benedict Cumberbatch (Stephen Strange), Rachel McAdams (Christine Palmer), Chiwetel Ejiofor (Baron Mordo), Amy Landecker, with Scott Adkins, Michael Stuhlbarg (Nicodemus West), Tilda Swinton (The Ancient One) and Mads Mikklesen opens November 4th.