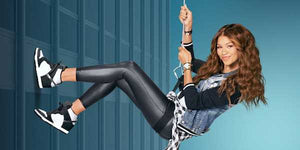 Apparently Zendaya Will Actually Be Playing Mary Jane Watson In SPIDER-MAN: HOMECOMING
When it was first announced that Zendaya had joined Spider-Man: Homecoming we were told she'd been cast as "Michele". Well, it seems she'll actually be playing a far more iconic Spidey character...
Ever since we learned that actress/singer Zendaya had won a "key role" in Sony and Marvel's Spider-Man: Homecoming, fans have been speculating about who her "Michelle" character might really be. Now, The Wrap reckon they've uncovered her actual identity: perennial Peter Parker love interest, Mary 'MJ' Watson.

Apparently they verified this through a couple of sources, though it has yet to be confirmed by the studio.

Watson was previously played by Kirsten Dunst in Sam Raimi's Spider-Man trilogy, and then almost appeared in Marc Webb's Amazing Spider-Man movies before Shailene Woodley had her scenes cut.

Spider-Man: Homecoming also stars Michael Keaton, Donald Glover, Jacob Batalon, Laura Harrier, Tony Revolori, Tyne Daly, Bokeem Woodbine, Marisa Tomei and Robert Downey Jr., and is set to swing into theaters on July 7, 2017.

UPDATE: Vulture seems to have confirmed this, while adding that the big reveal was actually supposed to be kept as a suprise for the end of the film.
Source : Comic Book Movie