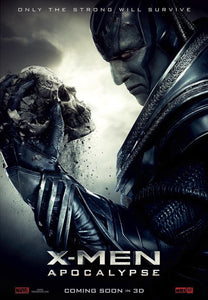 Have you seen some of the Variants ?  Spider-Gwen # 8 & Amazing Spider-Man # 12 is selling fast.
With 'X-Men: Apocalypse' hitting theaters this May, True Believers are preparing for the arrival of one of the most nefarious villains in the entire Marvel Universe to theaters all over the world. Although, that won't be the only place that we'll be seeing the mighty Apocalypse. In addition to Bryan Singer's follow up to the acclaimed 'X-Men: Days of Future Past', the House of Ideas will be unveiling an epic three-part crossover in the pages of their X-Men comic books titled 'Apocalypse Wars'. But it appears that En Sabah Nur will be appearing in the pages of 'Extraordinary X-Men', 'Uncanny X-Men', and 'All-New X-Men' with a bit more Horsemen than usual.
In anticipation for the coming of the all-powerful Apocalypse to the page and screen, Marvel Comics announced this week that they will be releasing a series of variant covers reimagining Earth's Mightiest Heroes as the big bad's deadly henchmen.
From the Merc With A Mouth to the Star-Spangled Avenger to the Sorcerer Supreme, a number of Marvel's biggest names will be turned into Horsemen for the Age of Apocalypse variants. You can check out the first wave of covers for titles such as 'All-New, All-Different Avengers', 'Amazing Spider-Man', 'Captain America: Steve Rogers', and more in the gallery below:
On top of those books receiving AOA variants, here's a list of other comics receiving special covers throughout the month of May:
Black Panther #2

Black Widow #3

Captain Marvel #5

Daredevil #7

Deadpool #11

Doctor Strange #8

Extraordinary X-Men #10

Howard the Duck #7

Invincible Iron Man #9

Ms. Marvel #7

Power Man & Iron Fist #4

The Punisher #1

Spider-Gwen #8

Thunderbolts #1

The Totally Awesome Hulk #7

Uncanny Inhumans #8
Out of the upcoming covers, it will definitely be cool to see fan favorites like Spider-Gwen and Howard the Duck as Horsemen of Apocalypse. However, I'm surprised to see names like Squirrel Girl, Silver Surfer, Hellcat, and Silk excluded from the line up. But the more that I think about it, seeing Howard under Apocalypse's control may make up for it. 
What do you think about Marvel Comics' Age of Apocalypse variants? Are there any notable exclusions that you wish were included in this special event? And will you be picking up 'Apocalypse Wars' throughout the Spring?
Source : Science Fiction