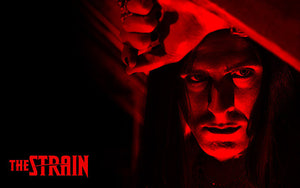 This article has the most up-to-date info on the status of The Strain Season 3 as we continuously monitor the news to keep you in the know. FX has scheduled the premiere date for a new season for August 28, 2016.
Image: FX
About the show
Created by Guillermo del Toro and Chuck Hogan, The Strain is an American horror TV series that first aired on FX in July of 2014. After the initial success, the series was renewed for season 2, which premiered on July 12, 2015.
After an airplane full of dead people lands in New York City, Dr. Ephraim Goodweather from the CDC is called upon to investigate. What he discovers is more alarming than any terrorist attack. The passengers on that plane were infected with an ancient strain of a vampire virus and now that virus is about to go viral on the East Coast. Goodweather, along with his colleagues and a group of good Samaritans hold the fate of humanity in their hands as they battle the infected and try to find ways to curb the virus.
In second 2, it becomes clear that New York City has fallen to the epidemic. Dr. Ephraim and his team decide to take on a new approach and concentrate on finding a biological weapon that would wipe out the vampires, as well as search the past in hopes of finding any mention of the creatures and how it's possible to destroy them. Will they succeed, or will they become monsters themselves?
The Strain has received critical acclaim and enjoyed good viewer ratings. Full of gore, blood and survivalist drama, it's not anything that hasn't been shown before, but is definitely something that the audience thrives on. Thus, it is no surprise that FX recently announced that it's renewing the series for a 10-episode season three, which will premiere sometime in 2016.
Latest news
UPDATED May 11, 2016: FXX has set the release date for the third season of the dystopian horror drama The Strain. The 10-episode season will return to the small screen on Sunday, August 28, 2016 at 10pm. The upcoming chapter kicks off with New York City in the midst of a full-blown epidemic, the population left by the US government to fend for themselves. How will the battle between the humans and the strigoi end? Sign up or our automatic updates and receive a reminder one day prior to the season premiere of The Strain.