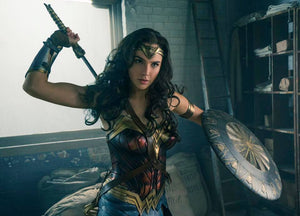 Release Date: June 2, 2017
Director: Patty Jenkins
Cast: Gal Gadot, Chris Pine, Robin Wright, Danny Huston, David Thewlis, Ewen Bremner, Saïd Taghmaoui, Elena Anaya, and Lucy Davis.
What We Know So Far: Gadot made her first appearance as the character in Batman v Superman: Dawn of Justice and will appear in Justice League, but not before she gets her own standalone film, and a World War I one at that. This marks the first female-led superhero movie of the modern era, and it will fittingly be directed by a woman.
However, while Breaking Bad and Game of Thrones veteran Michelle MacLaren was previously attached to direct, she departed over creative differences and Warner Bros. subsequently enlisted Monster helmer Jenkins, who herself was previously attached to Marvel's Thor 2. Cast-wise, Pine plays Wonder Woman's love interest Steve Trevor, a pilot who washes ashore on Diana Prince's island paradise and tells her of the horrors of WWI happening in the outside world.
Before she was Wonder Woman, she was Diana, princess of the Amazons, trained to be an unconquerable warrior. Raised on a sheltered island paradise, when an American pilot crashes on their shores and tells of a massive conflict raging in the outside world, Diana leaves her home, convinced she can stop the threat. Fighting alongside man in a war to end all wars, Diana will discover her full powers… and her true destiny.