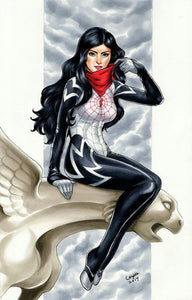 Rumors continue to persist that Cindy Moon aka Silk could make her big Marvel Cinematic Universe debut in Avengers: Infinity War. Fans have been buzzing with excitement over Marvel Studios' 10th-year-anniversary offering with the promise that all pockets of the MCU will collide in one massive production. Earth's Mightiest Heroes will finally cross paths with the Guardians of the Galaxy, an event initially set-up in this November's upcoming Thor: Ragnarok, as well as, other newly introduced superheroes like Benedict Cumberbatch's Doctor Strange, Chadwick Boseman's Black Panther and Tom Holland's Spider-Man.
Marvel Studios' next big ensemble project, their biggest yet, is just seven months away from hitting theaters and we continue to get a steady stream of speculations regarding the highly secretive film. This time, the intel could be huge for Spider-Man's new lore in the rebooted superhero franchise as one of the characters from his own corner of the MCU could apparently pop up in the epic blockbuster.
A video posted to the official IMDB Twitter [h/t CBR] fuels rumors that Silk could appear in Infinity War. The character, who has already previously appeared in Spider-Man: Homecoming as one of Peter's classmates, is played by Tiffany Espensen. As it turns out, upon checking her IMDb profile, she seems to be signed on for the project where she's set to reprise her role as Cindy.
Source  :SB