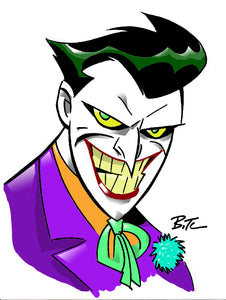 Warner Bros. confirms standalone DC movies outside of DCEU continuity
A month ago, you could practically hear the collective necks of the internet snap in one direction as it was revealed Warner Bros. was developing a Joker movie from The Hangover's Todd Phillips, a solo movie that would not be in continuity with the other DCEU films like Suicide Squad, Batman v Superman, and Justice League. Confusion continued to linger as the tight-lipped studio wouldn't reveal too much about the project, but now speaking with Vulture we know that the plans for the "DCEU" are changing at Warners.
 Our intention, certainly, moving forward is using the continuity to help make sure nothing is diverging in a way that doesn't make sense, but there's no insistence upon an overall story line or interconnectivity in that universe," DC Entertainment president Diane Nelson tells the outlet about their plans moving forward.
This summer's Wonder Woman was the first example of such, a solo film that briefly hinted at the larger DCEU but wasn't so entrenched that it became a hindrance on the film. It went on to become the highest-grossing movie in the DCEU and one of the highest-grossing Warner Bros. movies of all time. The studio plans on taking a similar approach with the upcoming Aquaman as well.
 Some of the movies do connect the characters together, like Justice League. But, like with Aquaman our goal is not to connect Aquaman to every movie," chief creative officer Geoff Johns said.
 The pair confirmed that the standalone films like The Joker one are very much part of their plan moving forward, and they would be under their very own film label, which will be officially announced to the world "soon-ish."
 What do you think about DC's plans to keep their films purposefully separate and even make solo films out of the larger continuity? Sound off in the comments below!
 Source : Superherohype