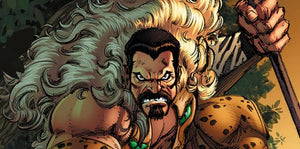 .
Sergei Kravinoff a.k.a. Kraven the Hunter, is finally poised to make his big screen debut. Sony previously teased plans for the Spider-Man foe, but now the project is reportedly moving forward with The Equalizer 2 screenwriter Richard Wenk currently working on a script. The still untitled movie will presumably take place within Sony's upcoming cinematic universe that'll start this October with Venom.
In Sony's "Venom-Verse," there are seemingly no plans for Spider-Man to make an appearance, with the wall-crawler currently active in Marvel Studios Cinematic Universe. Because of this, fan reaction to a Kraven the Hunter solo movie has been, well, mostly negative, despite the fact that the big-game hunter has major potential.
RELATED: Sony's Kraven Movie Reportedly Hires The Equalizer 2 Screenwriter
While Kraven is a Spider-Man villain, it's important to remember the web-slinger played no role in Sergei Kravinoff becoming Kraven the Hunter. The same can't be said for Eddie Brock becoming Venom, yet Sony is finding ways to work around that spider-shaped obstacle. Spidey not being a part of Eddie Brock's transformation into Venom initially rubbed fans the wrong way, but the studio appears to be winning them over as more and more Venom footage is released, and the truth is, adapting Kraven's story won't be nearly as challenging for the studio.
When Kraven made his first appearance in The Amazing Spider-Man #15, those living in the Marvel Universe already knew who he was. J. Jonah Jameson sang Sergei's praise, calling him a "living legend" and "the greatest hunter of all time!" Kraven was a straight-up celebrity before he ever met Spider-Man, and if you take that to heart, then there's a story to tell that doesn't involve Peter Parker at all, one that finds Sergei become obsessed with someone else that has defeated him.
Source : CBR
Asylum Kollectibles