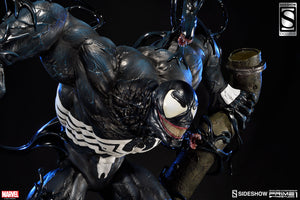 This July, "Spider-Man: Homecoming" will get a whole new lease on life. Thanks to a deal between Sony and Marvel Studios, Spidey has joined the Marvel Cinematic Universe, and it looks as though he didn't come alone. Sony has a "Venom" film in the works with a projected release date of October 5, 2018.
When reached by CBR, Sony confirmed the release date. The studio also confirmed that Scott Rosenberg and "The Amazing Spider-Man 2's" Jeff Pinkner are on board to pen the script.
According to The Hollywood Reporter, "Venom" doesn't have a director. Longtime "Spider-Man" producers Avi Arad and Matt Tolmach will continue to produce and oversee the project. The studio plans to use "Venom" to launch a franchise.
The report claims that the project is from Sony and does not mention Marvel Studios. Though it seems likely that Venom will also be part of the MCU, it is unconfirmed at this time.
Warner Bros.' DC Extended Universe film "Aquaman" originally targeted October 5, 2018 for a release date as well. However, the film's release date was pushed back by two months earlier today.
In the comics, Venom was originally a Spider-Man villain, an alien symbiote which brought out the worst in our friendly neighborhood Peter Parker. He has become more than that in recent years, after the creature was bonded to Flash Thompson, a bully-turned-government-agent. It is unknown at this time which version of the character will appear in the film, though it seems more likely it will be the Flash incarnation.
Source : CBR