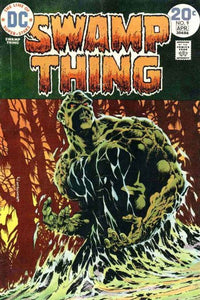 Bernie Wrightson, legendary horror comics artist, past away last night after a long battle with brain cancer. He was 68.
Wrightson is known as the co-creator oder DC....
He began his career as an artist at The Baltimore Sun newspaper and was inspired by a meeting with Frank Frazetta to begin creating his own stories.
Wrightson made his professional comics debut with the story "The Man Who Murdered Himself" in DC Comics' House of Mystery #179. He continued working on DC Comics' and Marvel Comics horror anthology titles for several years.
In 1971, Wrightson and writer Len Wein created Swamp Thing in House of Secrets #92, and in 1972 he and Marv Wolfman created Destiny in Weird Mystery Tales #1, a character that would feature prominently in Neil Gaiman's Sandman series.
In 1972, Wrightson returned to Swamp Thing for the character's ongoing series. Wrightson drew the first 10 issues of the series, co-creating Abigail Arcane and much of the Swamp Thing mythology.
In 1974, Wrightson left mainstream comics to work at Warren Studios, where he adapted the stories of H.P. Lovecraft and Edgar Allen Poe. In 1975, he formed The Studio with Barry Windsor-Smith and Michael Kaluta, and Jeff Jones to pursue work outside of comics.
Later in his career, Wrightson produced work for Heavy Metal magazine, including the Freakshow serialized graphic novel with writer Bruce Jones. He adapted Stephen King's Creepshow horror movie into a graphic novel, the first of several collaborations with King. He also helped design the Reavers for Serenity, and in 2012 he published Frankenstein Alive, Alive! with Steve Niles at IDW Publishing.
The comics community has been mourning Wrightson's passing. Some of their reactions, which often include some of Wrightson's beautiful artwork, have been included int he following pages.
Source : CBR