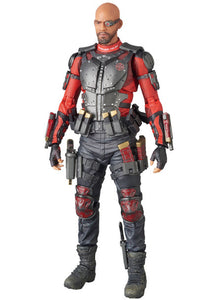 To paraphrase one of his earlier roles, Will Smith can even make body armor and a crazy mask look good!
With David Ayer's "Suicide Squad" poised to arrive on Aug. 5, the DC Comics-based film continues to inspire collectibles manufacturers.
RELATED: This "Suicide Squad" Joker Action Figure is a Real Scream
This time, it's Japanese toymaker Medicom, which has unveiled its MAFEX Deadshot figure, based on Smith's appearance in the film. First and foremost, the sculptors absolutely nailed the star's likeness.
Expected to ship in March 2017, the nearly 6.3-inch figure comes with Deadshot's signature rifle and wrist gauntlets, a knife and three handguns. The figure also features interchangeable hands, two heads — masked and unmasked — as well as a display stand.