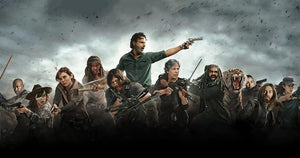 The Walking Dead midseason finale might have brought a tear-jerking departure, but it didn't bring in audiences quite like it used to. The midseason finale saw a 25 percent drop in live viewership compared to last season midseason finale.
The AMC zombie series is still a ratings juggernaut, but Season 8 midseason finale was the lowest rated finale event since Season 2. The episode scored roughly 7.9 million viewers and a 3.4 rating in the 18-49 demographic. Viewership was up a touch compared to the previous episode, which marked a season low for the show.
There's no reason for The Walking Dead fans to panic, though. The Hollywood Reporter says the show is still second only to NBC's Monday Night Football in Sunday night ratings. Video-on-demand has also played a major role in The Walking Dead live ratings downturn, as the most recent episode saw a 45 percent increase in viewership via video-on-demand in only three days.
The steady decline in ratings has led some to question why The Walking Dead hasn't yet been renewed for a ninth season. The shows eighth season was renewed just prior to Season 7 premiere. No such announcement about Season 9 has been made by AMC just yet.
The Walking Dead returns Feb. 25 at 9 p.m. on AMC.
Source : CBR