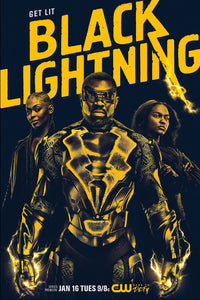 In little more than a month Black Lightning will shock audiences, and The CW is revving up promotion with the debut of new key art for the electric hero. The stylized posters show the titular hero with his hands literally full of lightning while being flanked by his two daughters. Like their father, Jennifer and Anissa Pierce are metahumans who eventually adopt the identities of Thunder and Lightning.
RELATED: CW Black Lightning Strikes in Series Premiere Photos
The series tells the story of Jefferson Pierce, who retired from being Black Lightning for nearly a decade ago after being a hero became too much of a burden on his family life. Now a high school principal, Jefferson finds himself donning his costume yet again to fight the evil gang known as The One Hundred.