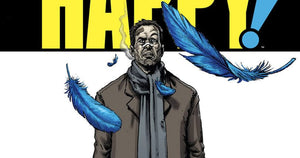 Syfy's Happy! Adaptation Casts Female Lead for Pilot
Syfy has just cast actress Lili Mirojnick as the female lead in the pilot "Happy!" (via The Hollywood Reporter) which will co-star actor Chris Meloni. The upcoming series is based on the comic of the same name that was published by Image Comics and written by Grant Morrison with artwork from Darick Robertson.
Meloni will star as Nick Sax, a detective turned hired killer, while the newly announced Mirojnick will play the role of Det. Meredith McCarthy, a character described as "a tough homicide detective in a man's world."
The show will follow Meloni's Nick Sax, a character described as a corrupt ex-cop turned hitman, as he makes his way through a world full of "casual murder, soulless sex and betrayal."
Mirojnick is perhaps best known for her work in films such as "Cloverfield" and "Friends with Benefits," however, she has also appeared in television shows such as "Person of Interest" and "Grimm."
RELATEDyfy Orders Pilot Based On Morrison & Robertson's Happy!
Director Brian Taylor ("Crank," "Ghost Rider: Spirit of Vengeance") will direct the pilot which was written by Morrison, and both men will pull double duty as they will also executive produce the series alongside Neal Moritz, Pavun Shetty, and Toby Jaffe of Original Film. This marks Morrison's second project in development with the network as he is also at work on a small screen adaption of "Brave New World" for Syfy.
"Happy!" does not currently have a premiere date.
Source : CBR