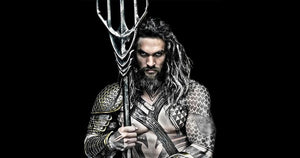 It has been more than two years since actor Jason Momoa was announced in the role of Aquaman in DC's Extended Universe, and in that time, we've only seen him suit up for "Batman v Superman: Dawn of Justice." However, that changes this year with the release of "Justice League," followed in 2018 by his solo film.
RELATED: Momoa Reveals "Aquaman" Stars Filming in Spring, Calls Snyder a Genius
Momoa, who's perhaps best known for playing Khal Drogo on HBO's "Game of Thrones," was attached to the role long before Warner Bros. confirmed his involvement with the 2014 announcement of its DC Films slate. But while he wasn't confirmed as Aquaman until October 2014, Momoa knew he had the role long before then.
In a recent interview with The Hollywood Reporter to promote his upcoming Netflix drama "Frontier," Momoa revealed he'd actually known he'd be playing DC's sea king as far back as 2012 or 2013. "Knowing what your future is going to be in the next five or six years and having to keep your mouth shut is brutal," he said. Although that's understandable, that's become the norm when it comes to superhero roles.
RELATED: Aquaman Emerges From Sea in "Justice League" Set Images
Despite that difficulty, Momoa wouldn't change it for the world, proclaiming that this "has been the best moment" of his career. While Momoa was known for his work on genre shows like "Game of Thrones" and "Stargate: Atlantis" and films like "Conan the Barbarian" and "Wolves," it wasn't easy for him to land the kinds of roles he wanted. By signing on as Aquaman, however, Momoa has opened the doors to other possibilities and has been able to be more selective with his projects.
Along with his future as Aquaman, Momoa also has the upcoming reboot of "The Crow," as well as "The Bad Batch," a film by Ana Lily Amirpour, the acclaimed director of "A Girl Walks Home Alone at Night."
The actor is gearing up to begin production on "Aquaman" in Australia, where he'll work with director James Wan. Joining him in the upcoming feature are Amber Heard, who will make her debut as Mera in "Justice League," Willem Dafoe, who'll reprise his role as Vulko, and Patrick Wilson, who was recently announced as Aquaman's half-brother, Orm Marius, aka the Ocean Master.
"Aquaman" will hit the big screen on Oct. 5, 2018. But before then, audiences will see Momoa as Aquaman in director Zack Snyder's "Justice League," alongside Ben Affleck, Henry Cavill, Gal Gadot, Ezra Miller and Ray Fisher. That film arrives Nov. 17.
Source : CBR