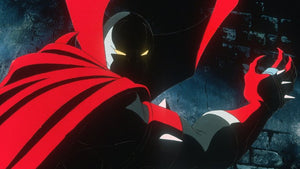 "It's going to be an R-rated, scary, badass sort of script."
The Spawn movie fans have always clamored for is coming, according to character creator Todd McFarlane.
The Image Comics co-founder talked about the upcoming reboot centered on the antihero for an episode of AMC's Geeking Out, which ComicBook.com was first to preview. 
McFarlane was asked straight up if fans were going to get another, better movie following the 1997 film which starred Michael Jai White, John Leguizamo and Martin Sheen.  
"The simple answer is yes," McFarlane replied, who has spoken about the possibility over the years. "It's not going to be a continuation. It's not going to be a sequel. Scrub the first movie."
That should be welcome news to fans who were severely underwhelmed by the PG-13 film 20 years ago, which was not reflective of the dark, violent, brutal world captured in the comic and short-lived HBO animated series.
"It's going to be a dark, R-rated, scary, badass sort of script. It's not a nice, polite PG-13," McFarlane insisted. The 1997 version was lacking in all those departments in order for the film to have a softer rating, likely done to help it at the box office. (It grossed just $54 million against a $40 million budget.)
McFarlane also said the reboot would utilize more practical effects; the first film was saturated with CGI in almost every frame, which barley held up then.  
No timetable for the film was given in they preview, but the creator succeeded in generating buzz: Spawn began trending on Facebook after the clip was posted. 
Source  : Hollywood Reporter