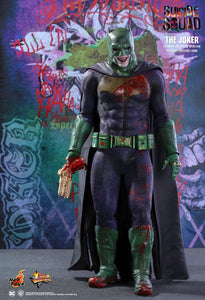 After teasing the "Suicide Squad" collectible figure in July, Hot Toys has released details and official photos of its 1/6th-scale "Batman Imposter" version of the Joker.
While audiences, alas, didn't get to see this take on the Clown Prince of Crime in the Warner Bros. film, the figure was crafted "in the spirit of the movie," with the Hong Kong toymaker's signature attention to detail.
According to Hot Toys, designers "let their imagination run wild" to create what's more than merely a color-swapped version of Ben Affleck's Batman costume. Closer inspection of this maniacally grinning Joker figure reveals touches like "Ha Ha Ha Ha Ha" written in red paint — or blood — along the left leg, playing card suits on the utility belt, the Joker's name emblazoned over the Bat-emblem, and the smiley-face on the right forearm. Hot Toys even included a replica of the Joker's "Damaged" tattoo across the green mask.
Although this "Batman Imposter" has a supply of blood-soaked Batarangs, his signature weapon appears to be Joker's ostentatious golden gun, which fires a flag bearing the message, "God's only child."
The exclusive figure, which also comes with a "Suicide Squad"-themed display stand and character backdrop, will be available only in "selected markets."