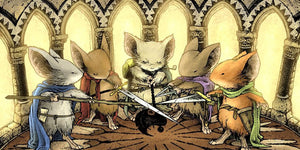 David Petersen's Eisner-winning, creator-owned comic Mouse Guard is going to become a movie from screenwriter Gary Whitta (Rogue One: A Star Wars Story).
Ross Richie and Stephen Christy will co-produce the project alongside Reeves. Following the success of Disney's The Jungle Book, THR reveals that the studio is eager to make a live-action version of the film albeit with CG characters via performance capture, of which Reeves has a lot of experience now.
The series, written and drawn by Petersen, centers on a group of mice in the Middle Ages who protect their community from invasions - both by other mice and by outside forces.
While it's possible that Hollywood was simply waiting for the technology to catch up to Mouse Guard before green lighting a motion picture adaptation, the wait may also have something to do with a series of underperforming mouse movies over the last ten years, including Flushed Away and The Tale of Depereaux. For those eager for more updates on the Mouse Guard movie, stay tuned to Comic-Con where Petersen and Whitta will be fielding fan questions at a Friday afternoon.
The Mouse Guard concept should be pretty self-explanatory, especially if you're able to see the header image above. She's best known for directing television (Better Call Saul, among many others), but has carved an impressive career from the use of highly innovative framing and camera techniques. Some are healers, some are swords experts, while others are expert strategists or craftworkers.
Mouse Guard was originally published by Archaia before moving to Boom!
Source : Loving Futbol