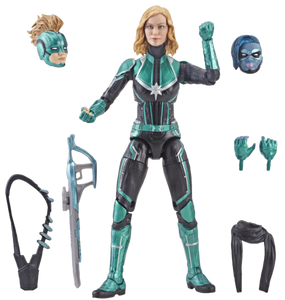 Marvel Legends Captain Marvel 0Target & Walmart Exclusive Figures!

by D. Kuhrt

The Captain Marvel movie may not be hitting theaters until March, but as far as Hasbro Marvel Legends collecting goes, January 2019 is gonna be the big month that Carol Danvers fans have been waiting for! We learned about the final figure in the ML Kree Sentry Build-A-Figure Series earlier this month, but Hasbro had a few tricks left up their sleeve: the Marvel Legends Target Exclusive Starforce Captain Marvel & Walmart Exclusive Binary Form Captain Marvel Figures have now been revealed!

A few days back, photos crept onto the internet of previously-unseen Captain Marvel Legends figures that were all-but-confirmed to be store exclusive releases.
I always prefer to let Hasbro preserve secrecy until they're ready to play their cards, so I decided to wait for the go-ahead from Hasbro PR and official hi-res photos to be sent out.
And luckily, I didn't have long to wait, as Hasbro officially announced the pair of exclusives late this week!

First up, we've got the figure that I (though not necessarily the majority of collectors) am more excited about: the Starforce Captain Marvel figure. We've seen Carol in this green Kree costume in trailers and on various toys, so it's not a shocking twist that we'll be getting a Hasbro figure of this version of the character.
What may surprise some folks, however, is how loaded up with accessories this Target Exclusive is! The Marvel Legends Captain Marvel Starforce figure will come with threeinterchangeable heads (masked and unmasked Carol Danvers and a Minn-Erva head), as well as a scarf, four interchangeable hands (fists and grasping hands), a strapped pouch/bag, and a very cool Kree blaster rifle with paint deco on it.

The Doctor Minerva/Minn-Erva parts are a major highlight of this figure, as I can see a lot of fans wanting to get a second copy of this action figure after they see the movie in March. For just 20 bucks, Hasbro has gone all-out for this release.
From the response I've seen online, however, a majority of collectors are more excited about the Walmart Exclusive Binary Captain Marvel Legends figure than any other 6" version of Carol coming out next year.
Similarly to in the comics, this is a sort of "powered-up" Carol Danvers who comes with translucent flaming hair and effects piece attachments for her fists. I've seen quite a few folks already say this is the only Carol figure that they're planning to buy for the movie.
Everybody knows I'm a complete sucker for effects pieces, but I'm taking a wait and see attitude with this exclusive variant.
I'm not convinced we'll see Carol Danvers in her Binary Form for more than a minute in the film, and I think I prefer the Kree Sentry Series iterations of the character (one mostly because I want the cat pack-in). Bravo to Hasbro for getting this out there for those who want it, though!
The Exclusive Captain Marvel Binary Form and Starforce ML variants are due out in Walmart and Target stores (respectively) in January 2019 (yes, that's next month). Both toys carry the standard $19.99 MSRP.
Given that the Starforce figure is meant to be purchased multiple times and the Binary Form seems to have a lot of collector hype behind it, I think both these figures will be in more demand than the general Kree Sentry BAF Series.

Does the announcement of this pair of Captain Marvel Legends figures alter your shopping plans for the movie figures series? Which Carol Danver(s) variants (if any), are you planning on adding to your collection—and are you planning on picking up the Kree Sentry wave at all?