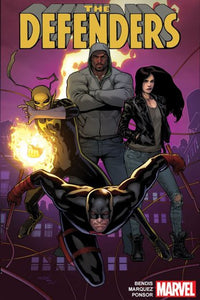 Marvel Comics is bringing back The Defenders as a comic, but this time it's coming with the Netflix state of mind.
Daredevil, Luke Cage, Jessica Jones and Iron Fist, heroes who are headlining their own shows on Netflix and are to team up for a show called Defenders, will now partner up on the publishing side.
Brian Michael Bendis, one of Marvel's most popular writers, and artist David Marquez, who worked with Bendis on books featuring Spider-Man and Iron Man, are behind the new ongoing series, which will launch in June, after receiving a preview in the publisher's Free Comic Book Day offering in May.
Defenders was a comic Marvel first launched in the early 1970s and it mostly included a fluctuating roster of heroes, with Doctor Strange and the Hulk being strands throughout. In 2013, Netflix and Marvel announced their plans for a Defenders television miniseries.
While it's true there's the upcoming Netflix show, Marvel's senior vp executive editor Tom Brevoort says the roots for the new book grow from 2012, when Bendis wrapped up his run on New Avengers, the team book that consisted of Cage, Jones, Fist and Daredevil — along with Wolverine, Spider-Man and others.
"There are a lot of fans who will say, 'Oh they're doing a TV show, so of course there's going to be a comic,' but at least in this case, there's a comic I can point you to," Brevoort tells Heat Vision. "Read the last two pages of Brian's New Avengers! Certainly that there is a big new exciting Netflix TV show coming is a good excuse for us to get to that story that we planted the seed on."
Thus, Defenders sees Bendis' return to private investigator Jones, whom he co-created, and Cage, whom he returned to prominence in 2005 by including him in an Avengers lineup that was initially met with skepticism. And of course, Daredevil, for whom Bendis wrote a defining run for five years, working with artist Alex Maleev, in the early 2000s that was gritty and grounded.
"You will get Jessica Jones looking out her window, street-level, and my return to Daredevil, which will be different than what I and Alex did before," says Bendis. "And Luke and Danny, characters that I have a strong affinity for. I spent most of the oughts being mocked for the love of Luke Cage. Now that Luke Cage is a household name, I just sit back in my chair and laugh and laugh."
In keeping with the tone of the Netflix shows, which, of course, are based on the gray worlds of the heroes' stories, Defenders sees the group banding to take on the various criminal empires vying for dominance in New York City and the neighborhood of Hell's Kitchen.
"I wanted to do a sprawling, Godfather-like epic at the street level of the Marvel Universe, really putting out hooks down and creating a modern, elaborate organized crime story that is different than what has gone before, but builds on everything that has happened to these characters, as individuals or as a team, and putting them in the hardest battle for the street that anyone can imagine."
For Defenders, Bendis is reteaming with Marquez, both coming off of the event series Civil War II.
"Usually, when an artist is finished with a book like that, they want something quieter," says Bendis of the artist, who, like Bendis, lives in Portland. "This is the least quiet, 'quiet book' to do after an event."
Bendis says his authorship of the book is going be ongoing, a hallmark of the writer in an era where many scribes do just half-year or yearlong contracts.
"I love ongoing titles. I love what happens in the second year of titles…. There's a lot of hit-and-run writers and artists, I get that, but I find the real substance is when you've made a commitment. If you say to yourself, 'I'm only staying for six issues,' you've already kind of left. If you say to yourself, 'I'm staying,' then you really commit to it on a level that is important to the reader."
Source : Hollywood Reporter....