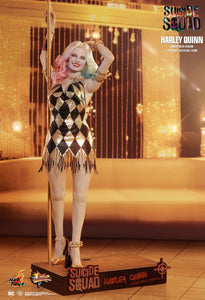 Suicide Squad rogues gallery has already been the basis for several stellar figurines, and the newest figure to be added to the collection, the 1/6 scale dancer dress version of Harley Quinn from Hot Toys, is no exception.
The 29 centimeter-tall figurine is intensely detailed, with a face sculpt based on Margot Robbie and complete with movie-accurate tattoos, gold watch armbands, necklaces, bracelets, earrings, other jewelry and, of course, her diamond patterned Harlequin-esque dress and gold tassel heels.
The figure can also be posed in a variety of ways — it has 30 points of articulation, including joints in the arms, shoulders, knees and ankles. That's perfect for posing her on her dance pole, which is attached to a nightclub-styled stand.
Source : CBR