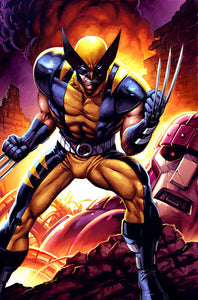 Len Wein, the best-selling comic book writer and editor who co-createdWolverine and Swamp Thing and editedWatchmen, has passed away. He was 69 years old.
The comics community is beginning to respond on social media after Spider-Manwriter Brian Michael Bendis tweeted out a memoriam message.
Wein's first professional comics story was "Eye of the Beholder" in 1968's Teen Titans #18. Wein co-wrote the story with soon-to-be-Titans legend Marv Wolfman, and co-created the male Starfire, later known as Red Star and the son of Constantin Kovar, who appeared onArrow last season.
Creating characters was something that Wein would do a lot throughout his long comics career. He is best known for two original creations of his that have forever altered the landscape of superhero comics, both of which have had successful screen adaptations: Wolverine was just portrayed in Logan, one of the most critically-acclaimed superhero movies ever made, wrapping a solo trilogy following three X-Men films where he was the de facto main character. The other is Swamp Thing, originally created for DC's anthology title House of Secrets; Swamp Thing was a key property in the evolution and exposure ofWatchmen co-creator Alan Moore as a mainstream, American superhero writer.
In the 1970s, Wein wrote regularly for MarvelComics, beginning with a one-and-done story in Daredevil #71 co-written with writer/editor Roy Thomas.
Wein would eventually succeed Roy Thomas as editor-in-chief of Marvel's comics line in 1974, but turned the job over to Wolfman a little over a year later and return to writing, with runs on Marvel Team-Up, The Amazing Spider-Man, The Incredible Hulk, The Mighty Thor andFantastic Four.
Wein and artist Dave Cockrum revived the X-Men in 1975, creating an army of new characters to populate the book, including Nightcrawler, Storm, Colossus, and Thunderbird; this is when Wolverine, created earlier by Wein with artists John Romita Sr. and Herb Trimpe, joined the team. Wein and Cockrum plotted out the next few issues, essentially priming the pump for writer Chris Claremont, who scripted the issues and began a legendary run on the title.
After Wein's relationship with Marvel management soured in the late '70s, Wein went to DC as a writer and eventually editor. He wrote long runs on Batman and Green Lantern, where he first collaborated withWatchmen's Dave Gibbons. He also worked with John Ostrander to co-write the Legendsevent miniseries, where the modern-era Suicide Squad was introduced.
Besides Watchmen, Wein worked Camelot 3000, The New Teen Titans, Batman and the Outsiders, Crisis on Infinite Earths, and All-StarSquadron as an editor.
Following the events of Crisis on Infinite Earths, Wein wrote the Ted Kord Blue Beetleseries, as well as providing scripts for the start of George Perez's groundbreaking reinvention of Wonder Woman.
After leaving DC, Wein was editor-in-chief of Disney Comics for three years in the early 1990s.
Next, he headed to TV, serving as a writer and story editor on X-Men, Batman, Spider-Man,Street Fighter, and more. In 2001, he and Wolfman wrote the screenplay "Gene Pool" for the production company Helkon, and later adapted it for a one-shot comic book for IDW Publishing. In 2005 and 2006, Wein appeared frequently as a panelist on the Los Angeles theatre version of the TV game show What's My Line?.
In the latter part of his comics career, Wein and Wolfman wrote a one-shot titled Gene Poolfor IDW, based on an unproduced screenplay the two had developed; he also worked onConan: The Book of Thoth, The Victorian, TheSimpsons, Futurama, and most recently a return to Swamp Thing and a run on Metal Men in the Legends of Tomorrow miniseries.
In recent months, Wein has undergone a number of surgeries, with the final tweet on his official account indicating that he came through surgery, "which went very well," on September 7.
Wein was inducted into the Will Eisner Comic Book Hall of Fame in 2008.
Source : CB