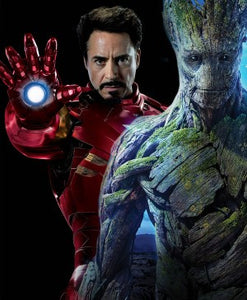 In a Facebook livestream, "Guardians of the Galaxy" star Vin Diesel confirmed that the Guardians will appear in "Avengers: Infinity War."
"Next year you've got 'Guardians of the Galaxy Vol. 2' coming and that whole concept started from you all saying 'when are you gonna be in a Marvel movie?'" he recalled. "And you remember the first picture after that Marvel meeting that I had where I was standing [with] the Avengers thing in the back -- some of you can look up that picture…there was this old Avengers copy that was behind me in that picture if you look back on my Facebook page you can find that."
"What's gonna be surreal is that picture is going to come to pass because now the Guardians will be included in 'Avengers: Infinity War' and that's incredibly exciting. Incredibly exciting. Incredibly exciting and something that if you were a part of our page you knew before everybody," he added.
Though a part of the Marvel Cinematic Universe, "Guardians of the Galaxy" largely stands apart from the other films. While the film established the idea of the Infinity Stones and utilized Thanos as a main villain, no main Avengers featured in the film, and so Thanos stands as the connective tissue between the franchises. However, it seems like that will change in "Avengers: Infinity War."
Directed by "Captain America: Civil War's" Joe and Anthony Russo, "Avengers: Infinity War" is scheduled to hit theaters on May 4, 2018.