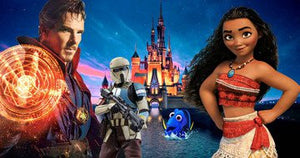 Disney is on a roll at the box office and they just recorded their best year ever. Thanks to several massive hits the studio has now made a total of $5.85 billion so far at the worldwide box office in 2016, besting their 2015 total of $5.84 billion, which was their best year up to that point. The House of Mouse may wind up with the biggest year on record for a studio, as they still have several big movies to come in 2016.
Currently, Disney's total domestic haul is $2.15 billion according to Box Office Mojo, and they very well may be able to cross $3 billion by the end of the year. Earlier this year, Disney became the fastest studio to ever cross $1 billion at the domestic box office, reaching the milestone on May 7. They were helped out quite a bit by Star Wars: The Force Awakens bringing in a large chunk of its massive domestic take after the new year. Universal previously held that record, and Disney was able to beat it by 37 days. Walt Disney chairman Alan Horn addressed the box office success Disney is experiencing in a statement.
"For the second year in a row, the Walt Disney Studios has reached a new high at the box office thanks to an absolutely stellar collection of releases from Disney, Disney Animation, Pixar, Marvel, and Lucasfilm. This success is a testament to the refined talent and innovative work the entire studio team puts into making these world-class cinematic experiences."
Universal currently holds the record for annual box office. The studio brought in a tremendous $6.89 billion last year thanks to massive hits like Furious 7 and Jurassic World. That record is very much attainable for Disney this year, because they still have several big movies coming out such as Doctor Strange, Moana and Rogue One: A Star Wars Story. Doctor Strange has already been raking it in overseas and is looking like it will have a big debut in the U.S. this weekend, so $7 billion in annual box office revenue is something Disney may be able to say when it is all said and done.
Disney has the top four grossing movies of 2016 worldwide so far, with Captain America: Civil War coming out on top with a very impressive $1.15 billion. Zootopia is currently the number two highest grossing movie for 2016, having brought in just over $1 billion, which is especially impressive for a totally original movie. Finding Dory and The Jungle Book took the number three and four spots respectively, with the former bringing in over $1 billion as well and the latter bringing in just shy of $1 billion.
The studio has had a couple of flops this year. Alice Through the Looking Glass earned just $299 million against a $170 million production budget. Granted, the original Tim Burton/Alice In Wonderland grossed more than $1 billion at the box office, so it is understandable that Disney felt like there was money to be made. Disney's biggest bomb, and perhaps the most shocking, was The BFG. It was the first collaboration between Disney and Steven Spielberg, but it only resulted in $242 million in global box office from a $140 million budget. The successes far outweigh the failures for Disney in 2016 and the rest of their releases are poised to do very well, so it is just a matter of how much more cash they bring in over the course of the next two months.
Source : MW