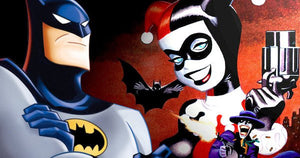 Last night's Comic-Con festivities came to a close with the world premiere screening of Warner Bros.' highly-anticipated animated adaptation of Batman: The Killing Joke, which will debut in theaters through Fathom Events on Monday, July 25 before arriving on Blu-ray and DVD August 12. During this panel and screening, Warner Bros. also confirmed the next three DC Universe Original Movies, Justice League: Dark, Teen Titans: The Judas Contract and Batman and Harley Quinn, all slated for release in 2017. No voice cast members have been announced quite yet, but these adaptations will surely be welcomed additions to the DC Universe Original Movies lineup.
The DC Comics Blog announced the news last night, following the Batman: The Killing Joke panel. While no specific release dates were given, the first project out of the gate will be Justice League Dark, an adaptation of the popular comic book series that will bring John Constantine to the world of animation for the first time in a supernatural story that promises plenty of mystery and thrills, along with an amazing voice cast. While Constantine's world of demons and magic are an important part of the DC Universe, it's been largely unexplored in DC's connected universe of animated movies until now. Justice League Dark was originally being conceived as a live-action movie with director Guillermo del Toro, but now they will adapt this story as an animated movie.
Teen Titans: The Judas Contract will follow in the spring and will serve as something of a follow-up to last year's Justice League vs. Teen Titans. The Judas Contract debuted in 1984 in the pages of New Teen Titans, when the Titans' comic book popularity was at its height. Written by Marv Wolfman and drawn by George Perez, it introduced the perhaps not-to-be-trusted Terra to the Teen Titans and was the storyline in which Dick Grayson first adopted the identity of Nightwing. The Judas Contract was one of the most popular comic book storylines of its year and is continually ranked among the greatest Teen Titans stories ever told.
Finally, the 2017 lineup of DC Universe Original Movies concludes with Batman and Harley Quinn, a brand new, wholly original story from DC animation legend Bruce Timm. The storyline for this one is tightly under wraps, but considering Timm's beloved style and complete understanding of both these classic characters, fans can expect this movie to be the talk of next summer. While it hasn't been confirmed, it's possible that Batman and Harley Quinn could very well be the animated movie that has its world premiere at next year's Comic-Con.
Batman: The Killing Joke made history as the first R-rated DC Universe movie, but we don't know for sure if any of these upcoming movies will follow suit and be crafted as R-rated movies. The studio hasn't announced any writers, directors or voice cast members for any of these movies, quite yet, and it isn't known if an DC Universe veterans will return to voice their iconic roles. Stay tuned for more updates on all three of these movies.
Source : Movieweb..