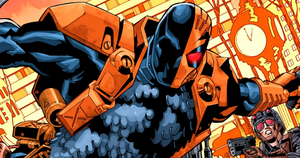 On the heels of Ben Affleck's Deathstroke tease, TheWrap reports that the character will be the primary antagonist of the upcoming "Batman" solo film.
Created by Marv Wolfman and George Perez, Deathstroke originally appeared as an antagonist in "The New Teen Titans" #2 and first encountered Batman in the "City of Assassins" storyline of his solo series. A mercenary and assassin, the character has gone on to become a villain for multiple other characters, up to and including Green Arrow. In addition to "Arrow," Deathstroke has appeared in "Lois & Clark," "Smallville," the animated "Teen Titans" television series, "Young Justice," and "Beware the Batman."
Affleck's tease follows "Arrow" executive producer Marc Guggenheim's comments about the character, who appeared as a primary antagonist in the first two seasons of the popular CW series. In February, Guggenheim told fans, "The character of Slade Wilson [Deathstroke] is currently tied up in another DC project." From the looks of Affleck's video, it appears that Deathstroke might just show up in "Justice League," at least briefly.
Directed by Zack Snyder, "Justice League" hits theaters on November 17, 2017. The Ben Affleck-directed "Batman" film hasn't been given a release date.
Source : CBR