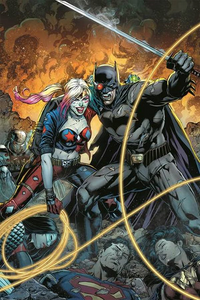 DC comics has revealed their first big comics event following their Rebirth relaunch. As revealed by the Wall Street Journal, DC will unleash "Justice League vs. Suicide Squad" this December. The six-issue limited series comes from writer Joshua Williamson and artist Jason Fabok.
The teams will come into conflict after Batman decides to end Amanda Waller's Task Force X program once and for all. But over the course of the story, a larger threat will emerge that will cause the two teams to unite.
Series writer Joshua Williamson said DC has known this event was coming since before Rebirth. "This is something DC had been talking about for a while," said Williamson, "even before I came on." Williamson worked with DC Comics CCO Geoff Johns on shaping the story, which will try to give every member of the two teams proper attention. In addition to Batman and Waller, Killer Frost and Deadshot will have important roles to play.
Source : CBR  By Brett White in Comics News
"Justice League vs. Suicide Squad" will launch in December with two issues before going weekly in January. The event won't be limited to just the limited series; tie-in issues of "Suicide Squad" (#9 and #10) and "Justice League" (#12 and #13) will also ship in January. The ramifications for the showdown will be felt throughout the DCU, particularly in February's "Justice League of America."
The event will be the first of the quarterly events that DC Comics will publish, events designed to keep the success and excitement of Rebirth going long after its launch.