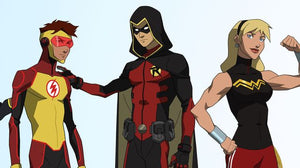 Straight from the series' panel at the San Diego Comic-Con comes a first look from the upcoming highly-anticipated third season of the popular Young Justice series, titled Young Justice: Outsiders, which you can check out in the gallery below!
Producers Greg Weisman and Brandon Vietti, along with art director Phil Bourassa, debuted new looks for the DC Super Heroes, and they also revealed that a new character, Thirteen, will be joining the Young Justice universe
The line-up for the team will include: Static, Kid Flash, Robin, Wonder Girl, Spoiler, Blue Beetle, Thirteen, Arrowette, Arsenal and Beast Boy.
In Young Justice: Outsiders, the teenage Super Heroes of the DC Universe come of age in an animated world of super-powers, Super-Villains and super secrets. In the highly anticipated new season, the team faces its greatest challenge yet as it takes on meta-human trafficking and the terrifying threat it creates for a society caught in the crossfire of a genetic arms race spanning the globe and the galaxy. Equally praised by critics and viewers for its impressive visuals and rich storytelling, Young Justice reached more than 25 million unique viewers in each of its two seasons on Cartoon Network. This passionate fan support set the stage for the new third season.
Sam Register (Teen Titans Go!, Justice League Action) will executive produce. Brandon Vietti (Batman: Under the Red Hood, Superman Doomsday) and Greg Weisman (Star Wars Rebels, Gargoyles) will produce the Warner Bros. Animation series. Emmy Award-winner Phil Bourassa (Young Justice, Justice League Dark, Teen Titans: The Judas Contract) serves as the series' art director.
Young Justice: Outsiders will be coming soon to the DC-branded digital service.

Source :superherohype