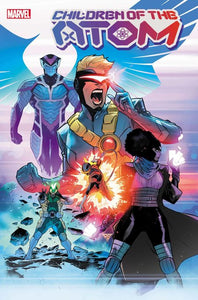 After teasing Children of the Atom as a new X-Men team of new young mutants, Marvel has revealed the creative team and roster for the new series. Written by Vita Ayala and illustrated by Bernard Chang, Children of the Atom introduces a team comprised of X-Men sidekicks.
"The initial seed of the idea actually came from [Editor] Chris Robinson: What if the X-Men had sidekicks?" Ayala explained in a statement. "MY take on it became, what would actual kids from our current time be like, if they were X-Men sidekicks? What would Gen Z X-Men be like?"
Written by VITA AYALA
Art by BERNARD CHANG
Cover by R.B. SILVA with colors by JESUS ABURTOV
"I have never known a world without mutants and the X-Men, and to be able to create characters that would become part of the canon is WILD. I love them very much. Bernard, Chris and I have worked so hard on them, and I was practically itching to let them out into the world so others could love them too," Ayala added. "What makes the new cast special to me is that they are reflective of a lot of people I know who look up to what the X-Men stand for, and have taken it upon themselves to further those ideals. These kids are exactly the kids who, in real life, have posters of Storm and Wolverine in their rooms, who grew up seeing them as heroes and want to live up to that."
Children of the Atom #1 by Vita Ayala and Bernard Chang goes on sale in April from Marvel Comics.
Source : CBR