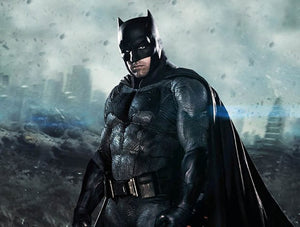 #thebatman
Ben Affleck Reportedly Signs Up For DCEU's Batman Trilogy And A Future 'Batman Beyond' Adaptation
He may have been considered by fans to be the best part of the divisive Batman v Superman: Dawn of Justice, but Ben Affleck's professional relationship with DC and the greater DC Extended Universe (DCEU) has been uncertain as of late. Affleck was rumored to be having disagreements with producers, ranging from creative differences to a general dissatisfaction with the DCEU's current direction. These rumors, however, may have finally been put to rest by Ben Affleck, who reportedly just signed up to be a part of the DCEU for the long haul.
Bat-Fleck, More BatmanMovies And Beyond
Comicbookmovie.com have reported that the actor-director of critically acclaimed features like Argo and The Town just signed a contract that solidified his future in the #DCEU. According to the website's Warner Brothers insiders, Affleck signed on to reprise his role as Gotham's Dark Knight for director Matt Reeves' planned Batman trilogy and the future Batman Beyond adaptations.
"Affleck has signed on to appear as the Batman in Matt Reeves Trilogy. Affleck will play the Dark Knight for three more films, with the last leading into a Batman Beyond film, which will also lead to the next phase of the DC Extended Universe."
While Reeves' take on the Caped Crusader's nocturnal escapades in the crime-ridden Gotham City will surely be something to look out for, the most interesting development here is the confirmation of a DCEU adaptation of #BatmanBeyond.
Batman Beyond was an animated series that acted as a sequel to the critically acclaimed Batman: The Animated Series. Here, an aging Bruce Wayne (Kevin Conroy) has retired and passed the #Batmanmantle to Terry McGinnis (Will Friedle) in a futuristic, crime-infested Gotham City where old and new foes roam the streets.
Despite being an original concept that didn't start out as a comic,Batman Beyond spawned a large following and has since been considered to be a part of the greater DC canon.
DC and Warner Brothers have been trying to adapt McGinnis' crime-fighting crusade to the big screen for years, but their efforts have proven futile. Following the failure of Batman and Robin in 1997, DC shuffled their plans for a Batman reboot, including a live-action take on Batman Beyond. In the end, DC placed its trust in Christopher Nolan's The Dark Knight trilogy, which proved to be a fantastic decision from the studio.
The DCEU's Batman Beyond: How It Will Happen
By the time the DCEU would be ready to adapt Batman Beyond, Affleck would be the perfect age to finally take a back seat. Not only will Affleck's age make him a perfect fit for an older Bruce Wayne, but his continued presence in the DCEU would strengthen the cinematic universe's continuity while keeping one of its fan-favorite characters around for a little while longer.
The DCEU may have gotten off to a rocky start, but it's finally shaping up to be the cinematic universe that DC fans deserve. With Ben Affleck's reportedly renewed presence as the most bad-ass Batman to ever hit the big screen, things are looking up for Warner Bros. and the DC Extended Univer