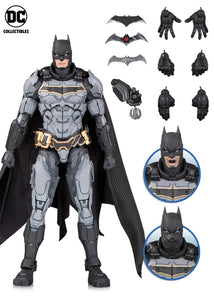 DC Comics has announced a new line of premium grade, highly detailed action figures for later this year, with Batman set as the first character to be released.
DC Prime, the new line of high-grade action figures from DC Collectibles, launches this October with a posable Batman figure. The figure is designed by artist Riccardo Federici and sculpted by Wonil Song.
Standing at 9 inches, the armored Batman figure sports a wired fabric cape and comes with a variety of accessories, including three pairs of interchangeable hands, three swappable heads, a grapple gun and three different Batarangs.
The DC Prime Batman figure features a noticeably more armored design than most traditional depictions of the character, with an appearance reminiscent of the character's look in

Batman: Arkham Knight

.
However, the iconic Bat logo emblazoned on the figure's chest features the yellow border, similar to Greg Capullo's redesign of the character near the end of the acclaimed artist's run on the Batman ongoing series with writer Scott Snyder. This design that has since been largely carried over into the DC Rebirth era.

.
Source : CBR