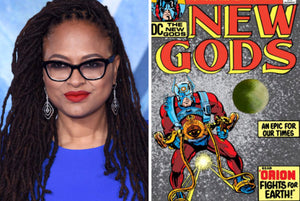 After making history as the first woman of color to helm a $100 million-plus live-action film in A Wrinkle In Time, Ava DuVernay will continue to play in the event film sandbox. She's closing a deal with Warner Bros and DC to direct a big-budget screen adaptation of The New Gods, the creation of revered comic book impresario Jack Kirby.
The studio has set Kario Salem (Chasing Mavericks) as the writer; he'll craft the narrative and work closely with DuVernay.This is a bold move for Warner Bros/DC and not just because this is the second superhero franchise they've handed to a female director after Patty Jenkins turned Wonder Woman into a crowd-pleasing blockbuster and is working on the sequel with Gal Gadot. Unlike recent DC fare, this is a freestanding world created and designed by Kirby back in 1971, not long after the prolific comic legend had exited Marvel.
There is no connection to the other DC worlds being exploited for film right now by Warner Bros, where studio boss Toby Emmerich and his newly installed DC production president Walter Hamada are moving forward with new approach to filmmakers on their DC-based fare.The New Gods was the Genesis of the uber-villain Darkseid. Also called "Fourth World," the Kirby creation debuted in a trilogy of related comics written and drawn by Kirby that were published in the very early 1970s: New Gods, Forever People and Mister Miracle.
The New Gods came into existence after the world of the gods of classic mythology were destroyed during Ragnarok. The deities inhabit two planets: one is New Genesis, a lush paradise, and the other Apokolips, which sounds like Dante's version of hell. War ensues. There is a rich universe of extraordinary characters for DuVernay to play with here.  This will be a fun one to follow.
Source :