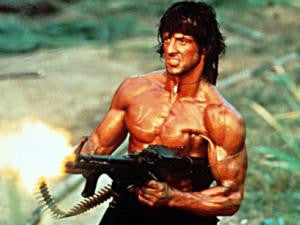 Plans are set for Sylvester Stallone to produce a Rambo TV series, as strange as that may sound.
While some might dismiss the exploits of the embattled wayward Green Beret John Rambo as a Reagan era relic, it still seems to be the case that his country loves him as much as he loves it. Rambo may soon be making a comeback, moving things to the small screen this time. The man who played the eponymous American-as-apple-pie protagonist, Sylvester Stallone will at least be involved as executive producer.

According to reports from an array of trade outlets, Fox has closed a development deal for a series tentatively titled Rambo: New Blood. The series is directly connected to the explosively iconic series of action films launched in 1981's First Blood, which was adapted from David Morrel's original novel. The show title seems to be a rather strong indication that the series will be a passing of the torch to a new generation of marginalized military veterans turned by circumstances into one-man-armies. Indeed, reports indicate that is actually more than the case.

The basic plot of Rambo: New Blood introduces and follows a completely new character in an ex-Navy SEAL named J.R. (presumably standing for John Rambo junior). While early info is still rather sketchy, a large part of the series will supposedly involve the father-son dynamic between the elder Rambo and J.R. Thus, while Sylvester Stallone has not yet been confirmed to reprise his iconic movie role (last revived in 2008's Rambo,) the presence of the father seems to be a critical component, at least in terms of codifying the series' continuity connection to the popular films.

Producing studio eOne will launch the series working off a script screenwriter Jeb Stuart, who helped pen the original Die Hard, The Fugitive and even one of Stallone's heyday-era pictures, Lock Up. The small screen jump, which had been rumored a few years back, is a rather interesting move, considering the current critical and box-office acclaim with Stallone's other major franchise, Rocky with Creed. However, the ever-evolving medium could yield a new focus towards the more pathos-heavy elements of First Blood before the series evolved into an unmitigated orgy of explosions (enjoyable as they were).

At the moment, plans relating to production and release for Rambo: New Blood have not yet been announced.
Source :Den Of Geek