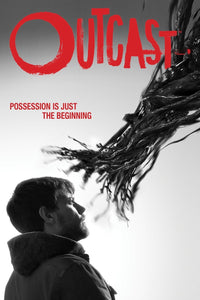 Outcast Comic Book series by Robert Kirkman is now a TV show on Cinemax .Episode ( 1 ) A Darkness Surrounds Him. This was scary as hell, the story line is based on * Demonic Possession *, Kyle Barnes confronts a possession case that causes him to delve into the secret of his past.
If you are ready for something that air on the dark side than, this series is the one to keep on your radar, so check it out, and drop me a note....
Episode (2) Air Date June 10, 2016  I Remember When She Loved Me :
Episode (3) Air Date June 23, 2016  All Alone Now :
 See Comic Books info Below : Spoiler Alert !!!!
"A Darkness Surrounds Him" is the first issue of Outcast by Kirkman and Azaceta and the first part of the volume A Darkness Surrounds Him. It was released June 25, 2014 and written by Robert Kirkman. On July 6, 2016, the artist's proof edition is set to be released.[1
Kyle Barnes has been plagued by demonic possession all his life and now he needs answers. Unfortunately, what he uncovers along the way could bring about the end of life on Earth as we know it.[2]
Summary :
Betsy Austin began yelling at her daughter for dating a man 4 years older than her. After she ran off, she told her son Joshua to stop eating as it was time for bed. She was shocked when she saw Joshua biting through his own finger.
After a game of poker, Reverend Anderson was contacted by Betsy who told Anderson that "it happened" to Joshua.
Kyle was awaken by a knock on his door. On his way down, he had flashbacks of an event that happened to his mom many years ago. He was greeted at the door by his adoptive sister, Megan Holt who came to check up on Kyle. Megan offered to help him out and get some real food but Kyle kept telling Megan to leave.
Anderson made an attempt to command the demon to leave the child. He told Betsy she was a distraction and told her to leave until he was done but she refused and stayed. After believing Anderson was hurting Joshua, Betsy went to stop but ended up being kicked in the face by her son.
Outside a local grocery store, Kyle and Anderson cross paths for the first time in years. Anderson tells Kyle about a demon possessing a boy and asked if he could help. Megan then drove Kyle to her house, though Kyle wasn't too pleased. When Megan's husband arrived, he wasn't so pleased to see Kyle either and got into an argument with his wife. Kyle took this opportunity to slip away and walk home.
The following day, Kyle received another knock on his door. Megan had come once again but only to drop off the groceries, leaving a note saying "weirdo". Kyle used the phone that was bought to call a woman, though he never responded and quickly smashed the phone.
Kyle then decided to take up Anderson's offer and went to pay Joshua a visit. When he went to the possessed Joshua, the boy stated that he knew Kyle and that he know's he is one of many outcasts. The boy jumped Kyle, much to Anderson's surprise, claiming it was nothing he had ever seen before.
Kyle and Anderson had a discussion on the porch. Anderson told Kyle he was once married and had a child. He told Kyle that he was also once possessed by a demon but commanded it to leave. They then returned to the room for more answers.
Kyle then remembered that her mother never liked the light while being possessed. Kyle ripped the curtains open and the boy dived into the shadows. Kyle went to expose the boy to more light and got into an altercation with the boy. The blood from the altercation began to burn the boy and soon enough, the demon was released. Betsy came to check what was happening and was glad to see her boy alright.
After a misunderstanding, the police release Kyle, much to Officer Holt's dismay. Kyle told Anderson about what he had done to his wife but regrets that no one would ever believe his story. Kyle then vows to find out why demons are out to hurt him.....