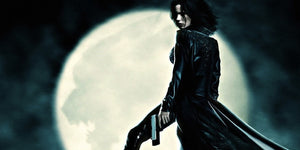 The Underworld franchise, a dark fantasy series set in a world where vampires and lycans (werewolves) war among themselves unbeknownst to humans, launched in 2003. Kate Beckinsale, as vampire "death dealer" Selene, led the first two installments, Underworld and Underworld: Evolution, while Underworld: Rise of the Lycans shifted the focus back in time to a different group of characters. Most recently, Underworld: Awakening returned to Selene in present day and introduced new vampires and lycans to the film series, with humans entering into the supernatural war.
The Underworld franchise is next returning to the big screen with Underworld: Next Generation, which will re-team Selene with her Awakening ally David (Theo James). However, soon after Next Generation was announced, it was also revealed that a television series was being developed by Underworld 1 and 2 director Len Wiseman. Now, the director has given an update on that TV series.
Yes, there's been a lot of conversations and even development on what that series would be. It's really appropriate for television, in terms of how those characters can really tie in, but also become something new. It's really an attractive space. I don't want to put a date on it because then that's going to be printed and it might not happen in that timeframe, but it is a thought.
Underworld: Next Generation is currently filming with a release date scheduled for later this year, but it's unclear who – if anyone – aside from Wiseman will be involved in the TV series. Wiseman is currently developing a sixth Die Hard installment, Die Hard Year One, and, despite working mainly on films, does have experience in television with Sleepy Hollow and the upcoming Lucifer series at FOX.
Source: SR