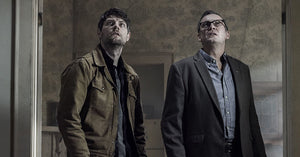 Ahead of "Outcast's" big debut on Cinemax on June 3, series co-creator and executive producer Robert Kirkman has given his new series very high praise: it's scarier than "The Walking Dead." Kirkman compared his two series -- AMC's "Walking Dead" and Cinemax's "Outcast" -- in an interview with Entertainment Weekly. Both series are based on comics he writes, so he elaborated on what makes the upcoming "Outcast" from the massively popular horror drama, "The Walking Dead."
"It's not a road show like 'The Walking Dead,'" said Kirkman of "Outcast. "There's not a lot of traveling or things like that. The town of Rome, West Virginia, is very much its own character in the show, and the community that's built there is kind of what makes it so terrifying to think about all these people that know each other's secrets, But there's this element in this town that is changing them, that's making them different people, that's making them a threat. Your friends and neighbors and loved ones can be your greatest enemy at the turn of a dime, and it's not because they're mindless monsters -- they're a cunning, manipulative, very dangerous creature that is suddenly in your midst. It's a scarier show."
Based on the Skybound/Image Comics horror series by Kirkman and artist Paul Azaceta, the exorcism drama stars Patrick Fugit as Kyle Barnes, a man that's been plagued by demonic possession all his life. With the help of evangelist Reverend Anderson (Philip Glenister), Kyle embarks on a journey to find answers and regain a normal life. Kirkman spoke about Kyle's journey, particularly how it differs from the trajectory of "Walking Dead's" leading man, Rick Grimes.
"Yeah, a lot of the process of 'The Walking Dead' is watching Rick Grimes being beaten down and having to grow and change and evolve to overcome that," said Kirkman. "And when we meet Kyle Barnes at the beginning of 'Outcast,' his life has already been ruined, and he is completely at the end of his rope from this phenomenon that surrounds him that he's been dealing with his entire life. And so, it's really more a process of him digging himself out of this hole and trying to take control of his life again. At the very start of our show, he's in a darker place than Rick Grimes has really ever been."
While "Outcast" doesn't debut on television until June 3, the first episode is already available to watch online. You can check it out below and see for yourself how scary it is.