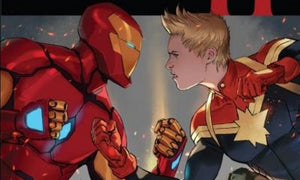 Director Shane Black with Robert Downey, Jr. on the set of 'Iron Man 3.'
While lots of female fans love superhero movies, the movies don't always love them back.
Whether it's problems with representation of women onscreen, the fact that it's taken so long to get a solo female superhero film off the ground or the lack of merchandise featuring female characters, women and superhero movies have, let's just say, a complicated relationship.
And now Shane Black, who directed Marvel's Iron Man 3, it's bringing to light a whole other facet of this issue. The director, who is on the press tour trail for his upcoming film The Nice Guys, gave a very revealing interview to Uproxx in regards to how one of the female characters of Iron Man 3 ended up with such a small part.
"All I'll say is this, on the record: There was an early draft of Iron Man 3 where we had an inkling of a problem. Which is that we had a female character who was the villain in the draft," he told the website, referring to Rebecca Black's character Maya Hansen. "We had finished the script and we were given a no-holds-barred memo saying that cannot stand and we've changed our minds because, after consulting, we've decided that toy won't sell as well if it's a female."
"New York called and said, 'That's money out of our bank,'" he added. "In the earlier draft, the woman was essentially Killian (Guy Pierce's character) – and they didn't want a female Killian, they wanted a male Killian. I liked the idea, like Remington Steele, you think it's the man but at the end, the woman has been running the whole show. They just said, 'no way.'"
But Black was quick to note that this might not be the way of Marvel anymore.
"So, we had to change the entire script because of toy making. Now, that's not (Marvel Studios head Kevin Feige). T
That's Marvel corporate, but now you don't have that problem anymore," he said, referring to recent corporate changes at the company.R.I.P. DARWYN COOKE.
Master Comic Artist, Writer Succumbs to Cancer
Posted by Milton Griepp on May 15, 2016 @ 11:25 pm CT
AddThis Sharing Buttons
Eisner Award-winning artist and writer Darwyn Cooke has succumbed to cancer, his family announced on his blog on Saturday. The post came only one day after a post revealing that he was receiving palliative care "following a bout with aggressive cancer."
"We regret to inform you that Darwyn lost his battle with cancer early this morning at 1:30 AM ET," Saturday's post said. "We read all of your messages of support to him throughout the day yesterday. He was filled with your love and surrounded by friends and family at his home in Florida. Donations can be made to the Canadian Cancer Society and Hero Initiative."
Cooke had a story published in DC's New Talent Showcase in 1984, but DC didn't realize what they had until much later. Cooke began working for Bruce Timm on DC's animated series in the 90s, then directed a year of Men in Black: The Series.
The original graphic novel Batman: Ego, in 2000, marked Cooke's first comic work in 15 years. In 2001, Cooke revamped Catwoman with writer Ed Brubaker; the look of the character is still used today, including in the TV series Gotham.
Cooke continued to work for DC, and also spent some time with Will Eisner's The Spirit character, drawing a Batman/The Spirit crossover (written by Jeph Loeb) and The Spirit series.