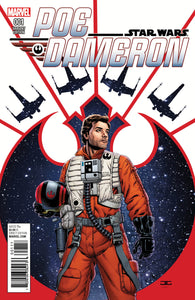 When Marvel's Star Wars: Poe Dameron comic arrives in stores next month, it will be the first official glimpse fans have had of the dashing flyboy hero since his introduction in The Force Awakens — and with Episode VIII still a couple of years away, the ongoing series may be the only fix of Poe we get for a while.
That means there's a lot of pressure on writer Charles Soule and artist Phil Noto to satisfy the fans. Judging from the preview pages released by Marvel, we can at the very least expect entertaining skybound antics, Poe Dameron looking handsome, and some probably adorable interactions with BB-8. That's pretty good for four pages, but it does leave one big question unanswered.
Namely, will this comic introduce the ex-boyfriend that broke Poe's heart and left him vulnerable but ready to love again when he first ran into (and named) Finn?
Come on, we're all thinking it.


Read More: First Look: 'Poe Dameron' Comic Explores Poe's Adventures Back Before He Met And Fell In Love With Finn | http://comicsalliance.com/first-look-marvel-poe-dameron-comic/?trackback=tsmclip