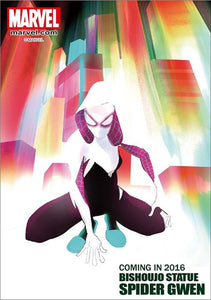 Marvel has introduced another best-selling female character in the past year, and she's now ready for the fastest turnaround time to Bishoujo statue yet: Spider-Gwen!
The spider-powered Gwen Stacy of an alternate universe first appeared last year in the build to the (awesome) "Spider-Verse" event, and has quickly become the star of her own popular series. Hasbro drew first blood by revealing the first-ever Spider-Gwen figure as part of the next series of Spider-Man Marvel Legends figures at SDCC 2015, but on the statue front, Kotobukiya also came to the show ready to stake their claim to first dibs on super-powered Gwen Stacy!
We got our first reveal teaser of the Kotobukiya Bishoujo Spider-Gwen statue in the San Diego Comic-Con 2015 catalog at the start of the show, and then Kotobukiya officially announced Gwen during their panel at SDCC 2015.
The artwork Kotobukiya showed of Spider-Gwen was just the cover from this year's Spider-Gwen #1 comic book. It's possible this crouching pose will be the actual pose chosen for the piece, but I suspect it's just placeholder art at this point and the final statue will be more dynamic.
Posted in Kotobukiya Tagged Bishoujo, Kotobukiya, Spider-Manpermalink