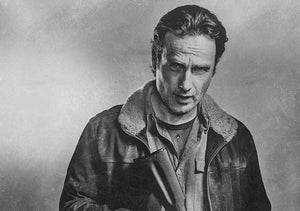 Last night's installment ofAMC's "The Walking Dead" was teased as having a major debut as well as a big surprise, and the episode delivered on both.
"The Walking Dead" Recap: Everyone Learns to Enjoy the Quiet of "The Next World"
The show opened with a time jump, shifting two months into the future following last episode's massive walker attack on Alexandria. Carl is back on his feet following his shooting, and he, Rick, Michonne, and Judith are living together as a sort of nuclear family, with Rick and Michonne romantically involved.
"The bonding of that experience and the fact they have a newly formed life now — it's two months later, they get Carl back, and they're able to rebuild Alexandria," Danai Gurira told Variety about the new development. "Rick transformed as well. He's able to take on all that Deanna used to say and that Michonne would encourage him to believe -- to come to Alexandria and consider himself one of these people. He's now much more hopeful and I think that's something that appeals to Michonne as well. They're in a place where they can actually allow their hearts to express themselves. Things are stable and better, they have a new lease on life."
As for the episode's big character debut, while fans are collectively anticipating the arrival of Negan on the show, last night introduced another fan-favorite when Tom Payne's Jesusmade his presence known.
Introduced in "The Walking Dead" #91, Paul Rovia's (Paul Monroe, in the comic) nickname Jesus comes equally from his appearance as well as his knack for saving people. A major player in the continuing Alexandria storyline, Jesus also plays a crucial role in the upcoming war with Negan and his followers.
"They want this lighter character," Payne tells EW.com about his character. "not that he's too light. He's a very serious person actually. He could be talking about something very serious, but there's also a lighter side to it. Everything is with a kind of sideways glance, but also not too much. There was a lot of me trying to find the right tone as well because the show is also slightly heightened at times, but also very serious, and that was, for me, slightly difficult in making sure I struck the right balance of tone."