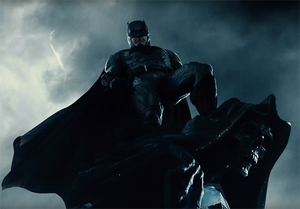 Ben Affleck out as Batman? Warner Bros. eyes replacing him
With Matt Reeves replacing Ben Affleck as director of The Batman, and recently revealing he'd tossed out Affleck and Geoff Johns' script, many fans were wondering when Affleck himself might jump ship from the role. According to The Hollywood Reporter, Warner Bros. Pictures is mulling over that very thing, with an eye towards replacing Affleck as Bruce Wayne/Batman in an upcoming DC Extended Universe movie, very likely The Batman.
While Affleck will reprise the role in the upcoming Justice League, his third time at bat after Batman v Superman: Dawn of Justice and Suicide Squad, either the studio or the actor himself (or both) are not happy with the way the DC movies are shaping up. It could also be a simple case of ageism, with the nearly 45-year-old Affleck far older than any of his fellow Justice Leaguers. Zack Snyder envisioned this iteration of the Dark Knight as an older, battle-hardened Batman who'd been beating up criminals in Gotham City for years by the time we catch up to him. Snyder has now exited the DC universe, with Joss Whedon taking over extensive reshoots on Justice League before filming his own Batgirl within the next year or two. The Batman is being eyed as the first in a potential trilogy, so if Affleck was getting cold feet about the role, it would definitely be a good idea for him to step out before the first one shoots.
However, the studio's current line is Affleck is still all-in, with studio chief Toby Emmerich saying, "Ben is our Batman. We love him as Batman. We want to keep him in the cowl as long as we can."
In the upcoming Justice League, fueled by his restored faith in humanity and inspired by Superman's selfless act, Bruce Wayne enlists the help of his newfound ally, Diana Prince, to face an even greater enemy. Together, Batman and Wonder Woman work quickly to find and recruit a team of metahumans to stand against this newly awakened threat. But despite the formation of this unprecedented league of heroes—Batman, Wonder Woman, Aquaman, Cyborg and The Flash—it may already be too late to save the planet from an assault of catastrophic proportions.
Justice League stars Ben Affleck as Batman, Henry Cavill as Superman, Gal Gadot as Wonder Woman, Jason Momoa as Aquaman, Ezra Miller as The Flash, Ray Fisher as Cyborg, Willem Dafoe as Nuidis Vulko, Jesse Eisenberg as Lex Luthor, Jeremy Irons as Alfred Pennyworth, Diane Lane as Martha Kent, Connie Nielsen as Queen Hippolyta, Amber Heard as Mera, Kiersey Clemons as Iris West, J.K. Simmons as Commissioner Gordon, with Ciarán Hinds as Steppenwolf and Amy Adams as Lois Lane.
Justice League is set to hit the big screen November 10.
Source : SuperHeroHype/