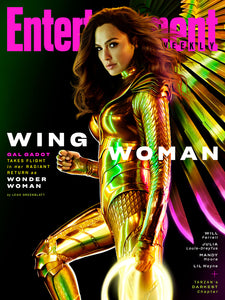 A brief history of Wonder Woman's golden armor.
A lot has changed for Gal Gadot's Diana Prince since the year 1971. As shown in the first Wonder Woman movie, the Amazon warrior left her home of Themyscira, waged war against the God of War himself during World War I, (seemingly) lost the love of her life in an aircraft explosion, and found out she's part deity herself. Now, in the upcoming sequel, Wonder Woman 1984, a lot more changes are coming, including one major visual transformation.
Diana trades her traditional red-white-and-blue battle gear for something with a bit more gleam: golden armor that comes with a helmet in the likeness of the eagle that emblazons her belt and gigantic metallic wings that allow her to pierce the sky. Those familiar with DC comic book lore know this as the character's Golden Eagle Armor and it's making its live-action debut in theaters with the movie this June 5.
Thy Kingdom Come
Diana first suited up as her own specialized winged victory in the third issue of Elseworlds: Kingdom Come, a four-issue series published from Alex Ross and Mark Waid in 1996. The comic book event took place in a not-so-distant future when Superman put himself out of retirement in light of a tragedy. That's when a faction of newer, younger metahumans rise up, bringing with them a violent, volatile approach to heroism that exists in stark opposition to the more traditional views of the Justice League. Their compromised, reckless morals blur the line between hero and villain, and end up hurting innocents in the process. When a catastrophic event kills millions of Americans, Superman returns to reform the League and wage war against the brash, out-of-control new protectors of earth.