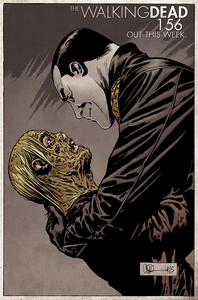 The Walking Dead issue #156 is OUT, and hopefully you've read it, cut the pages out, framed them, wrapped them in little tidy packages, given them as gifts, changed your mind, asked for them back, and re-assembled them into some of negatively CGC-graded Frankenbook. That almost certainly being the case, let us know what you thought down below! We'll be awarding our favorite comment with… well, something! Something goooood. Maybe we have a sample of an SDCC item lying around somewhere…
Also, guys, if you leave an awesome comment, come back to see if you've won or at least check your email's spam filter to see if we emailed you!
PREVIOUSLY: Andrea addresses Rick with concerns over his new leadership direction. Dwight's military rushes to Michonne's aid against Beta, allowing her to ride off to Hilltop to get Aaron life-saving medical care. Alpha allows Negan into her camp, but Beta isn't as sure of his trustworthiness.